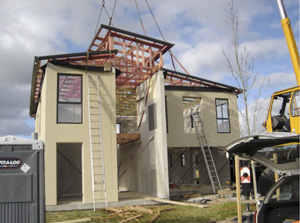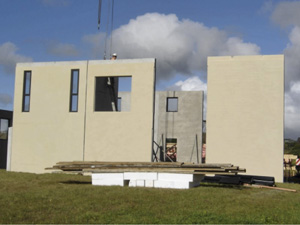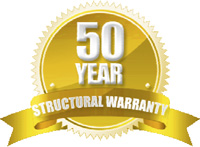 Litecrete lightweight precast concrete wall panels were used to construct four 2-storey houses in a residential development at Flatbush, South Auckland.
There were four different house designs, each having four or five bedrooms. The client's builder brought time-saving concepts to the table to further enhance the benefits offered in using Litecrete lightweight precast concrete:
The panels were painted on the external face and the windows installed at the Litecrete (Wilco Precast) factory prior to shipping
The timber midfloor and roof assemblies were prefabricated alongside the floor slab prior to the panel delivery
For the first 260 square metre house the 2-storey 220 mm thick Litecrete wall panels – 25 external and four internal – were installed in a day; the following morning the mid-floor and roof assemblies were craned in. For the second and subsequent houses the wall panels, timber mid-floors and roof assemblies were installed in under nine hours.
The pumice aggregate used in the Litecrete precast panels provides an in-built insulation value which complies with Building Code H1 Energy Efficiency. So after installation the walls were virtually complete and only required internal/external decoration.
For larger scale housing developments using three or four house designs, cost savings can be made with the repetitive use of the architectural and structural drawings, shop drawings and factory efficiencies. "Multiproof" building consents also save costs and with only one external wall component to consider, the number of visits by the building certifier is minimised.
You will never, ever experience "leaky home syndrome" with Litecrete. It is rot-proof, has a 4-hour fire resistance rating and comes with a 50-year transferable structural warranty.